Hardware for a Digital Library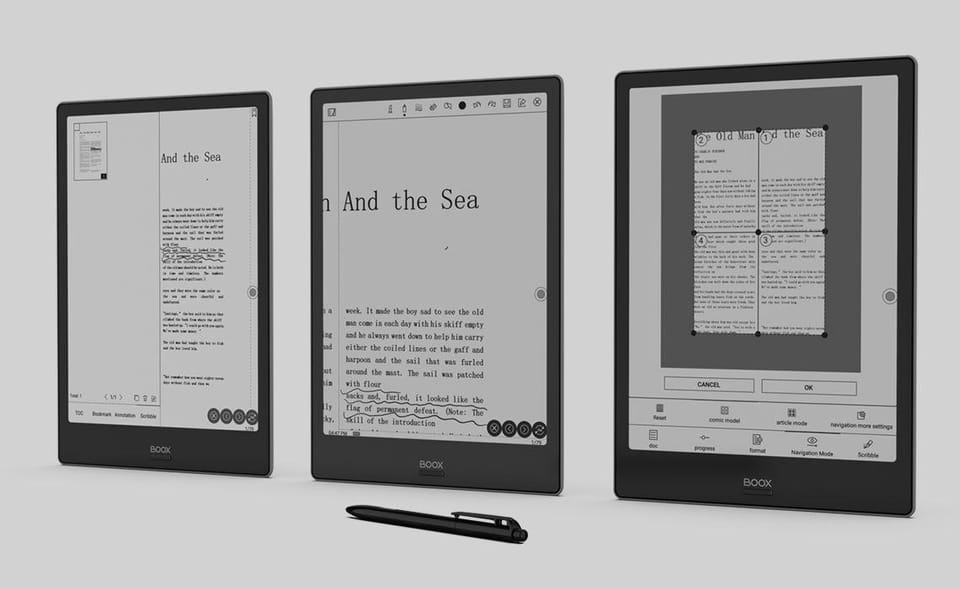 Update
I decided to go with the large format e-Reader, Onyx Boox NotePro. My reasoning is it was nearly half the cost of the 2-in-1. Using it over the last couple of weeks, I find it easy to take notes on and read. There have been a few instances where I ended up stuck with the UI not responding the way I anticipated but might have been more user error with a new device then then device itself.
Original Post
A while back I talked about maintaining a digital library. A personal library might have blog posts, digital books, and digital notes. A good resource when looking for digital information is DFIR Training webpage. However, having this information would only be useful to carry around.
I currently started my Master's at Champlain College Online in DFIR. During this process, I realized that I required a digital library because I travel for work. I do already have a Pixel 2 XL, Razer Blade Stealth (mid-2017, gray), and a Kobo AuraONE. Each of these devices are useful; however, none of these truly solve my problem. The screen on my Pixel is good for reading in short burst and research many topics but reading PDF or any detailed images (such as the SANS.org cheat sheets) is horrible. Razer Blade Stealth is a bit large in some situations. I realize it is a great ultra book. Reading on it has the same issue as the Pixel. For e-readers, I swear by the Kobo Aura ONE (sadly has been discontinued). It is a great reader in most cases. However, it does not read textbooks or larger PDFs properly. I also have one of the smaller storage devices.
What chooses did I look at? I was looking at a 2-in-1 computer or pro e-reader.
For 2-in-1 computer, the standard is Microsoft Surface Pro 6 which provides a nice tablet for those running Windows. I am not in love with the keyboard. It does work well, has a nice screen, and works well for note taking. However, I am a Linux user normal (running Qubes OS 4). The Surface does not play well with Linux from what I can tell. Next, I also looked at the Lenovo X-1 Tablet which is bigger then the Surface. It also does not work 100% (probably 90%) with Linux. It is cheaper then the Surface; however, according to some reviewers, the trackpad is just 'ok'. Lastly, I also looked at the Eve V, crowd-sourced tablet which like the X-1, it comes with a keyboard and stylus while remaining cheaper then the Surface. Eve V, though, still has some issues with completing orders and hardware problems out of the box (< 5%).
For e-readers, there two main companies Sony and Onyx which make professional e-readers. Sony e-readers ONLY read PDFs which was a killer for me. Onyx has several which run full version Android which include the Google Play Store or whatever apps you choose to side-load.
In the end, I went with the Onyx BOOX NotePro. It was less then half the cost of the 2-in-1 computers while providing a good note taking and reading experience (not nearly as good as the Kobo AuraONE). It maybe a bit heavier then the Sony products but it's fairly light and even lighter then the Razer Blade Stealth. In the short time that I have had it, I find it reads PDFs really well and the epub experience is fairly good. The main drawback is that the reader turns completely off after about 30 mins of inactivity -- great for battery life but hard on shorter burst of reading throughout the day.